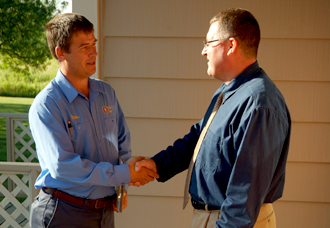 Kelly's Fuel is a well-known community business in Central Ontario with 90 years of experience. We have a reputation for always putting our customers first.
We take pride in our dedication to our customers, our staff and the community in which we live, work & play. And it shows in the way we do business – every day.
We would love to hear about your experience with Kellys Propane. Please reach out to us or leave us a review on Google.
Testimonials
Just wanted to send a bouquet to one of your Bancroft drivers for his timely delivery of propane on December 29th at 7:30 pm during a miserable night.

He informed my wife and I that we were as low as 10% and that deliveries such as this is what he did, no matter what time, to make sure that none of Kelly's customers are caught short; especially on those very cold nights.

The driver was pleasant and we do very much appreciate his attention to our situation and to Kelly's for their policy to assist customers with on-time deliveries. With service like that, we will certainly remain customers of your company.
– Frank & Anna W
Just have to remak about all your people: Girl on the phone cheerful. Two guys put two tanks in back, were so helpful for setting up the furnace etc. Even the fuel guy was cheerful. Thanks Shirley.
– Bob & Shirley P
We were in contact with Louanne recently in regard to a query in respect of the monitoring system on our propane tank.

As we live in the U.K. and only get out to our house in Bancroft a couple of times a year, it is such a relief to have such a great company as yourselves supplying us.

From our first contact with Kelly's, when you installed our propane tank, through refills during the severe winter last year, to queries in respect to tank monitoring, we have been truly blown away by the efficiency of service we have received from the team at Peterborough and Bancroft Kelly's and now also from Terry at Petroviron.

We'd just like to thank you and your team for the excellent customer service and support that we have received.
– Paul & Lynsey